*** BREAKING NEWS *** on Friday, October 28, 2022 ****

Crown has dropped charges against Fr. Tony Van Hee under the 'Safe Access to Abortion Services Act'. This is a very important first step and victory for free speech and expression!

Congratulations to Fr. Van Hee and his entire legal team, and a big THANK YOU to all of you for sustaining this battle with your prayers and donations.

The fight is not over yet.

The constitutional challenge to the anti-pro-life speech bubble zone law is ongoing.

Please continue to keep Fr. Van Hee and his entire legal team in your prayers, and if possible, please consider donating towards his legal fees. All donations (less credit card/processing fees) from this LIFEFUNDER go towards Fr. Van Hee's legal fees.

To read the CCRL's press release: https://ccrl.ca/news/chargesdropped/




*** UPDATED *** on Wednesday, June 15, 2022 *****

Court Case: In January my lawyers began work on our legal argument submissions to the judge, the final piece of evidence, as I understand it, before arguing in court. My lawyers are also involved in defending 40 Days for Life in an ongoing injunction application against social media activists who tried to interfere with their vigil campaigns.

In the most recent account submitted to me, I was sorry to learn that fundraising to date has been used up, to pay for the 14 cross-examinations conducted on Crown witnesses in 2021. I am appreciative of additional funds raised by supporters of Mary Wagner, but the legal costs for preparation for the argument and court hearings will soon be incurred, I am again appealing for donations from those who are able.

With much gratitude, daily prayers, daily Mass intention, and God's Blessing+,

- Fr Tony Van Hee




*** UPDATED *** on Monday November 30, 2020 ***

Fr. Van Hee's co-counsel, Philip Horgan, has provided a brief update:

In 2019, we provided 6 affidavits in support of our constitutional challenge, including support from Archbishop Terrence Prendergast, and Dr. Christian Elia, Executive Director of the Catholic Civil Rights League.

In response, the Crown served 15 affidavits of various witnesses, from abortion industry advocates, to Ministry and civic officials.

As a result of more recent developments, one of the Crown's affidavits has been withdrawn, rather than face further exposure through the court process.

Cross examinations on these materials will occur over the next few weeks, with an expected hearing date in 2021.




HELP FR. VAN HEE

On Wednesday, October 24, 2018, Fr. Tony Van Hee S.J. was arrested and charged while praying peacefully and holding up signs about free speech across the street from the Morgentaler Abortuary. The signs read: "The Primacy of Free Speech: Cornerstone of Western Civilization" and "Without Free Speech The State is a Corpse".


Fr. Tony has been charged with intimidating or attempting to intimidate people going to the abortion center under Ontario's totalitarian abortion bubble zone law, even though he wasn't advocating against abortion.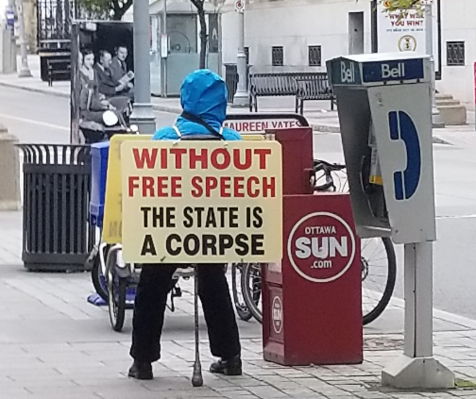 When speaking to media, Fr. Tony said "I will fight it on my own and if they fine me, I will not pay it and go to jail…If they jail me, I will fast."
Join us in making sure that Fr. Tony DOES NOT FIGHT ALONE!
For more than 28 years, Fr. Tony has been a prayerful and powerful pro-life presence on Parliament Hill, praying and fasting for an end to abortion.
Over the years, he has been jeered and heckled, parliamentarians have tried to silence him, his signs and property have been vandalized, and he was even harassed by a Member of Parliament who was offended by the truth Fr. Tony was presenting.
For almost three decades, Fr. Tony has been a tremendous witness to life. The late New Brunswick MP Elsie Wayne once said that he "is someone the whole country should admire."
Not only do we admire him, we have promised to help him.
Please consider donating to help Fr. Tony with his legal and other fees.
NOTE: All donations (less credit card/processing fees) will be sent to Fr. Tony. Campaign Life Coalition has set up this crowdfunding page on his behalf.